Prepare more delicious dishes in a shorter period of time by bringing home this gas stove from Butterfly. Its Smart Lock Pan prevents utensils from wobbling while cooking and its Stainless Steel Spill Tray requires low maintenance and ensures lesser chances of rusting. It is designed with Heat-resistant Legs and its Heat-efficient Brass Burners ensure equal distribution of heat.
Product Description:
Prepare your favorite meals and save both time and energy in the kitchen by getting this Rapid Glass Top Gas Stove from Butterfly. It comes with an easy-to-use Smart Lock Pan and Stainless Steel Spill Tray to make your cooking experience more efficient. Also, its Heat-efficient Brass Burners ensure proper distribution of heat while cooking.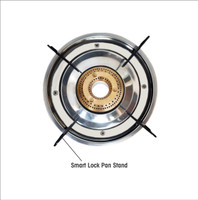 Smart Lock Pan
This feature ensures that your cooking utensils do not wobble while cooking as the spill trays almost lock with each other, thereby providing greater stability.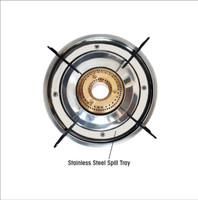 Stainless Steel Spill Tray
No more spending long hours cleaning heavily rusted spill trays. This Butterfly gas stove comes with stainless steel trays to ensure less chances of rusting. This ensures low maintenance and aids in efficient cleaning.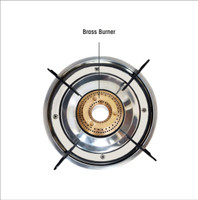 Heat-efficient Brass Burners
Brass has a high thermal efficiency and it ensures optimum retention of heat. The brass burners of this appliance help in equally distributing heat for proper cooking processes.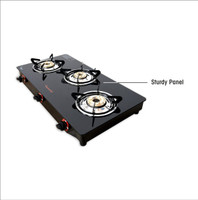 Flame-retardant Panel
You can stand in front of this gas stove and prepare dishes that demand long hours of cooking without any worry as the panels of this stove are flame-retardant.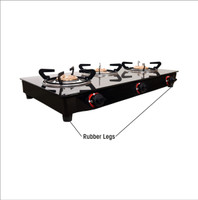 Heat-resistant Legs
The polymer support legs of this gas stove are heat-resistant. They promise stability and also enhance the product's efficiency.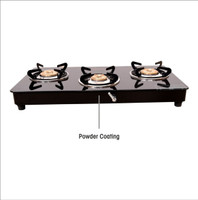 Powder Coating
The powder-coated pan stands are scratch-free and non-reactive. This feature helps in increasing the longevity and efficiency of the product.