1.5 Ton : Great for medium sized rooms (110-150 sq ft)
3 Star BEE Rating 2019 : For energy savings upto 15% (compared to Non-Inverter 1 Star)
Auto Restart: No need to manually reset the settings post power-cut
Copper : Energy efficient, best in class cooling with easy maintenance.
Sleep Mode: Auto-adjusts the temperature to ensure comfort during your sleep
About: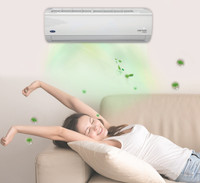 PM 2.5 Filter
This filter eliminates PM 2.5 and any other micro-particles from the air inside your home to make it fresh and healthy.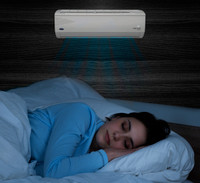 Sleep Mode
For the first two hours, this function increases the temperature by 1 degree Celsius every hour. After that, it keeps the temperature steady for the following 5 hours and finally switches off the air conditioner. This ensures that you save energy even while you're sleeping.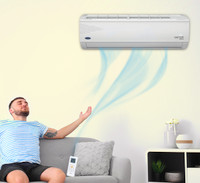 Follow Me
Once you activate this function, the remote control's inbuilt room sensor gets enabled allowing the air conditioner to regulate the ambient temperature.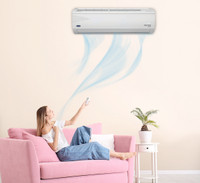 My Mode
This function helps you save your preferred settings, such as temperature and fan speed, and then activate them when required with the press of a button.
Auto Cleanser Function
When you activate this function, the indoor unit runs in cooling mode at a low fan speed. During this time, the condensed water carries the dust from the evaporator fins away. After that, this AC returns to the fan only mode blowing wet air. Thanks to this process, the indoor unit of this AC gets disinfected